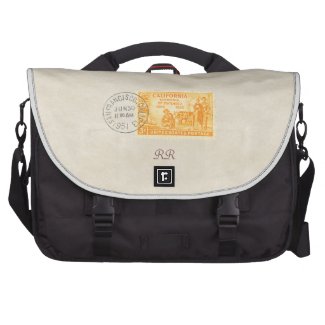 Vintage California State Centennial Commuter Bag
Shop for other gifts celebrating
California's Vintage State Centennial
Vintage California 1850 - 1950 Centennial Commuter Bag
The design on the flap of this Rickshaw commuter and laptop bag gives the impression of a vintage envelope faded with age. It bears a 3 cent stamp celebrating California's centennial of statehood in 1950, with a San Francisco postmark dated 1951.
The stamp, in hues of orange and yellow commemorate the 100 years of the state with images of 3 early pioneers; a couple standing in 19th century apparel, the man carrying a rifle and a hunting knife, and a prospector kneeling as he pans for gold. Surrounding images characterize life in the century between 1850 and 1950 - two yoked oxen, a steamship, oil rigs, oranges growing on a tree and grapes on a vine.Easy to customize. Replace the placeholder text with your own name, initial or monogram, or use the
Customize It
button on the product page to customise further, changing the text font style, size, position and color as required. The mottled background layer may be removed and your own color scheme applied.Please note that the stamp is not real. It is digitally enhanced printed image of an original in the designer's possession.The design is also reproduced on a range of other products - adhesive labels, luggage tags, cases, sleeves and more.
Browse and shop
for this vintage California Centennial Design on a range of gifts at the store. No need to wait until 2050 to celebrate the next centennial.