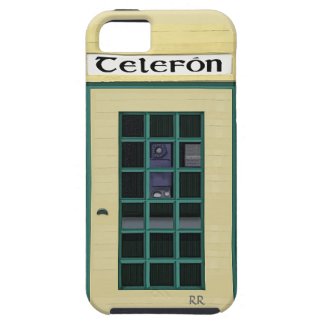 Irish Public Telephone Box on an iPhone 5 Case
Shop for this
Irish Telephone Box
design on other mobile cases
An Irish Public Telephone Box on iPhone 5 Case
Sold on Zazzle. This iPhone 5 Case-mate case features a public telephone box of Ireland; a kiosk with cream beige walls and ceiling, and a door with small glass panes and dark green frames with the text in Irish Telefon above the kiosk door.
The original phone box upon which this illustration is based is located near the designer's birthplace in Ireland. One ironic observation is that this case protects a device that has over the years led to the decline of the public telephone in rural and urban Ireland; so its value is particularly poignant to those with an Irish heritage. We thank those who have bought a copy as a memory of a disappearing Irish tradition.Easy to customize with your own initials or name.
The iPhone 5 Vibe version is shown, but the design is also on the Case Mate Barely There iPhone 5 Case, other iPhone cases and cases for Android phones, and the iPad Mini at our Zazzle Store.